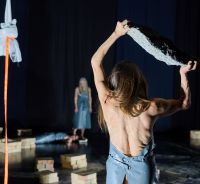 in case you missed it!
mehr über BONES and STONES findet ihr in form von interviews bei skug, bühne sowie in der wiener zeitung. kritiken gibt es von der der standard, tanz.at und european cultural news. ein gespräch zwischen herbert gnauer, marcela san pedro, günther auer und claudia bosse hier zum nachhören.

we are up for touring!
BONES and STONES,
ORACLE and SACRIFICE in the woods, ORACLE and SACRIFICE oder die evakuierung der gegenwart are works by claudia bosse currently available for touring. contact produktion@theatercombinat.com for more information!